Zucchini alla Scapece is a summer typical Neapolitan-based dish of fried zucchini and marinated in vinegar, oil, fresh mint leaves, and garlic. Absolutely to try!
This post may contain affiliate links, which means that as an Amazon Associate I receive a profit from eligible purchases. There is no additional cost to you. Please read my disclosure for more info.
Raise your hand if you don't like zucchini. During summertime, I always have tons of them and I love to prepare them every time in a different way!
If there are dishes that cannot be categorized, Zucchini Marinated alla Scapece fully fall into this category! (LOL)
Excellent to serve as a summer side dish, or to accompany meat or fish main courses or why not, to be used to season a whimsical pasta dish. In Capri, many restaurants use often to serve them even with mozzarella, a real delicacy!
The execution of this dish is really very easy and the required ingredients can be found in practically all kitchens: the flavor of zucchini thus prepared is fresh and unmistakable.
Before going into the recipe and preparation tips, I want to bore you with a bit of history.
The recipe for Zucchini alla Scapece has ancient legacies. According to some historians, this dish was even prepared already in ancient Rome. The dish was invented by Apicius, cooker of the emperor Tiberius and author of "De Re Coquinaria", the first known treatise on gastronomy. In ancient Rome, marinating was often used to preserve food for longer (they did not have refrigerators at the time, but they were still very ingenious).
Scapece would derive from the combination of "esca" a word which in Latin means "dish" and Apicii, from the name of the cooker Apicius.

According to others, Scapece comes from the Spanish " escabeche " which means "to soak in the vinegar", and that would indicate any food marinated in vinegar.
One thing is certain, whatever the origin, in Italy Zucchini Marinated Alla Scapece – which in the Neapolitan dialect are often also called "Cucuzzielli alla Scapece" – are by far the most popular side dish in summer. That's because they are so quick to prepare and delicious. You just have to take fresh zucchini, slice, fry and season them. That's it!!
How to make Zucchini alla Scapece

The original and traditional preparation foresees that the zucchini are strictly dip fried in hot olive oil.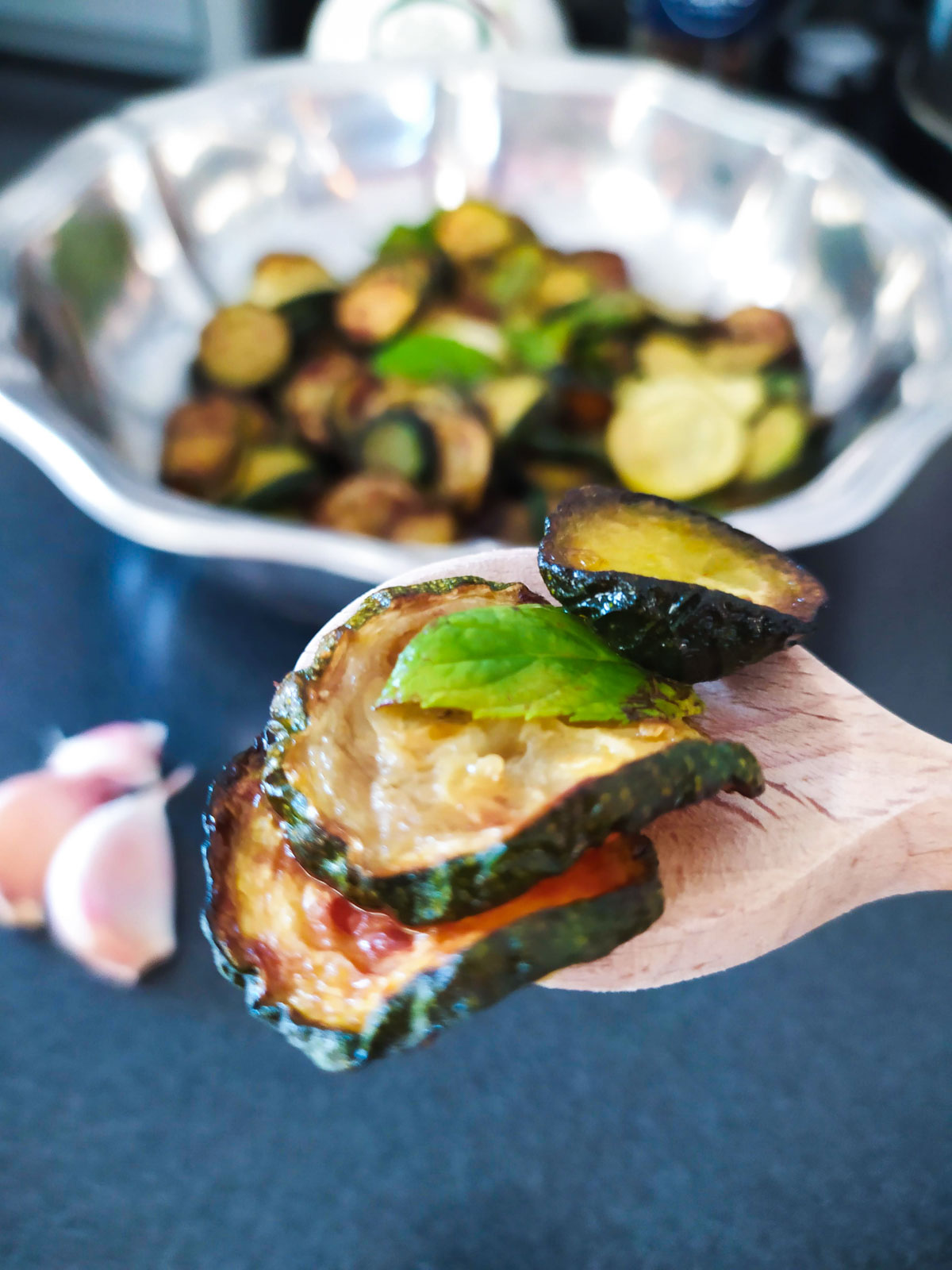 However, there are also lighter versions, low in fat but with unlimited taste, perfect for my dieting periods and that keep zucchini crunchy on the outside and soft on the inside.
Grilled: for this version grill the zucchini on a hot cast iron plate for about 5 minute each side or until the crust forms on the surface;
Baked: bake zucchini in the oven, placing them on an oiled baking tray or over a baking paper at a temperature 220-230 C° for about 30 minutes.
Air-Fryer: I recently purchased my first air fryer, which I had read and heard so much about and am testing it on my favorite dishes I also recently tested the air-frying version. To make Zucchini alla Scapece with the Air-Fryer pour the zucchini into a bowl and add a teaspoon of oil, mix well to grease all the slices. Heat the air fryer to 200 C ° for 3 minutes, pour the zucchini into the basket and cook for 15 minutes; halfway through cooking, remember to shake the basket.
My useful tips for an excellent result
The more or less strong flavor of the marinade depends on personal tastes and the type of vinegar used; if you like a stronger sour taste, use white wine vinegar, if like me, you like a more rounded taste, choose apple cider vinegar.
Mint is the element that, in addition to vinegar, gives character to this dish. Choose fresh and not dried mint leaves, perhaps from a seedling picked on the spot.
Another tip, if you want a more intense flavor, is to add 1/2 fresh chili chopped.
Lastly, I want to reveal to you a secret: Zucchini alla Scapece should be enjoyed cold and marinated after the right time. So you can prepare them in advance and keep them up to 4 days in the refrigerator in an airtight jar.
You will be amazed by this genuine recipe, and once the plate is empty it remains to be seen how there can be someone who doesn't like Zucchini Marinated alla Scapece!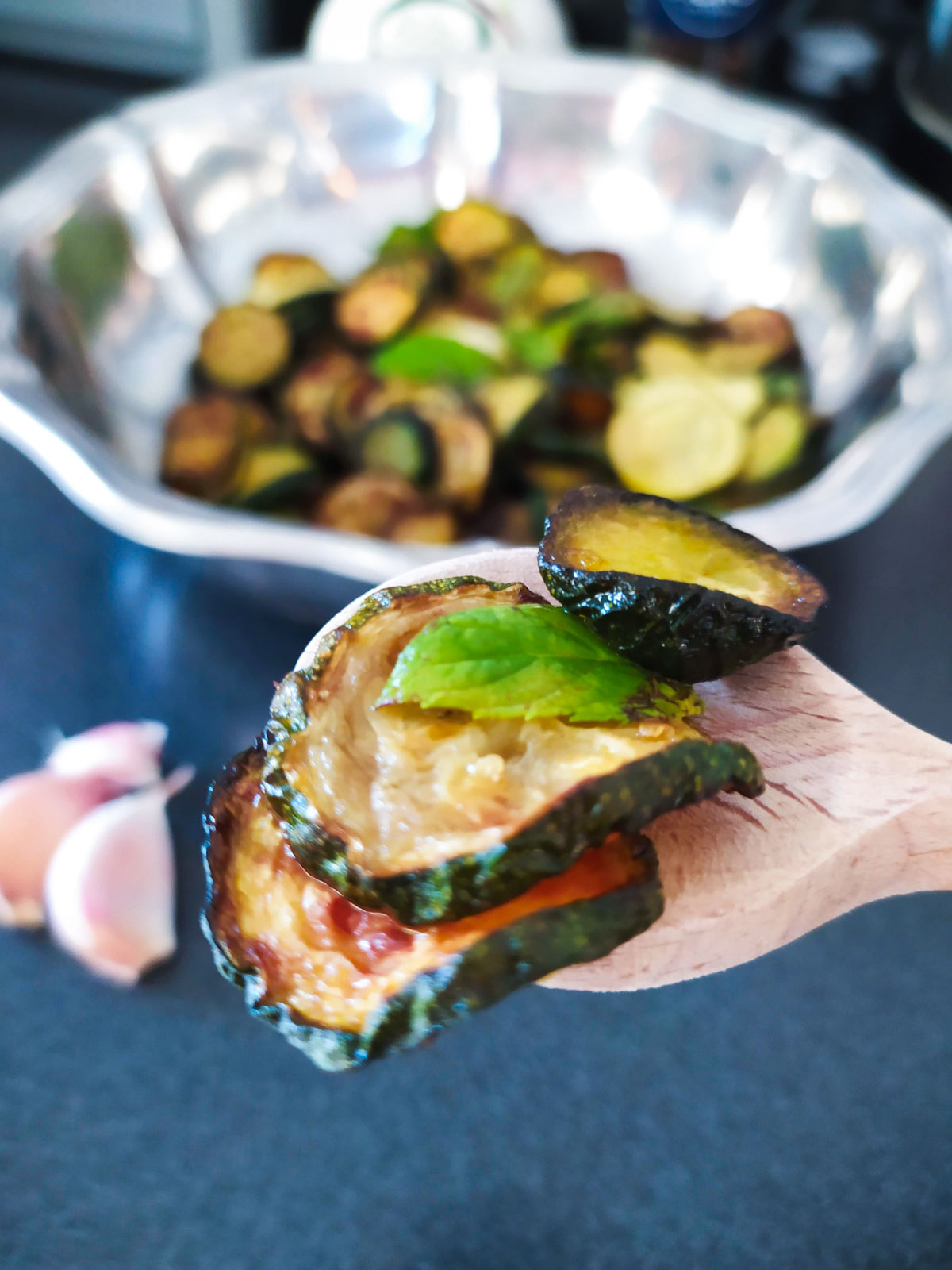 Zucchini Marinated alla Scapece
Zucchini alla Scapece is a summer typical Neapolitan-based dip fried zucchini dish marinated in vinegar, oil, fresh mint leaves and garlic. 
Ingredients
8 Zucchini
1 clove of Garlic
15 ml Olive oil for frying
15 mint leaves
Salt
5 sp  Water
5 sp Vinegar
½ chili pepper (optional)
Instructions
Reduce zucchini into round about 4 mm thick (1/8 or 1/4 inch).
Pour the zucchini rounds into a bowl with 1 tbsp of salt, stir and let rest about 20 minutes to remove excess of water.
Thoroughly dry with a cotton cloth or absorbent paper.
Heat oil in a large, non-stick pan so as not to overlap the round slices during frying.
When the oil is hot (170 C° or 340 F°) fry the zucchini, turning them continuously until they are golden brown (about 4 minutes each side).
Repeat the process to fry all zucchini.
Place cooked zucchini on tray with absorbent paper to drain the oil in excess.
Put a small pot on the stove and heat water and vinegar with the garlic clove. When is almost boiling, add 2 tablespoons of the frying oil. Let stay for 1 minute then turn off the heat.
Pour the drained zucchini into a bowl or a hermetic jar and toss the vegetables with the marinade.
Add the mint leaves and stir for a few minutes to season well.
Zucchini alla Scapece is excellent to eat cold, so let it rest a few hours.
Nutrition Information:
Yield:

4
Serving Size:

1
Amount Per Serving:
Calories:

122
Total Fat:

5g
Saturated Fat:

1g
Trans Fat:

0g
Unsaturated Fat:

4g
Cholesterol:

0mg
Sodium:

186mg
Carbohydrates:

16g
Fiber:

8g
Sugar:

8g
Protein:

7g
Nutrition Data is automatically calculated and may be not accurate.
I hope you've loved this recipe as much as I do!
If you liked it, leave a comment or share it by pinning it. To get more recipes like this, follow us on Pinterest or on our Facebook Page.
If like me, you love zucchini madly, give a try to these recipes as well: Baked Crispy Zucchini, or Stuffed Zucchini with Tuna and Anchovies.