This post may contain affiliate links, which means that as an Amazon Associate I receive a profit from eligible purchases. There is no additional cost to you. Please read my disclosure for more info.
Tigelle are small rounded buns from Modena, made with a dough made with flour, lard, yeast, and water and are stuffed with salami, vegetables, or with the classic Modena pesto.
I have to admit, until a few years ago I didn't know the Tigelle.
I met them for the first time at a village party near Modena and, from there, to me Tigelle are a state of mind!
Tigella is also called Crescentina, and represent the starter symbol of Emilia, it's about a small leavened buns with a diameter of 8/10 cm.
The origins of the Tigelle are very ancient. The year of their invention is not known exactly; Modena's area natives use to call them "crescentine", that literally means in Italian dough "that grows".
Although the first time I knew them by the name of Tigelle – which derives from the ancient mold that was once used for their cooking – I'll proceed to call them in this way.
Today to prepare them people use the Tigelliera – easy to find on the market by the way – it is a sort of aluminum or cast iron plate with round compartments to hold the Tigelle. Alternatively, however, you can always cook them on a non-stick pan.
The Tigelle are perfect if stuffed with the famous Modena pesto the "Cunza" which is a mixture of lard, rosemary and garlic, which is spread inside them (see below my direction to make it).

Tigelle are equally delicious filled with meats and cheeses and eaten like a sandwich!
Another version that drives me crazy is the sweet one: filled with creamy Nutella!
I recommend you to eat them when they are still lukewarm, but they can be kept up to two days well closed in a food bag, or about 5 days if stored into the fridge.
TIPS: If you prefer a lighter version of the original recipe, you can try replacing the lard with butter or with oil and milk with low-fat yogurt.
---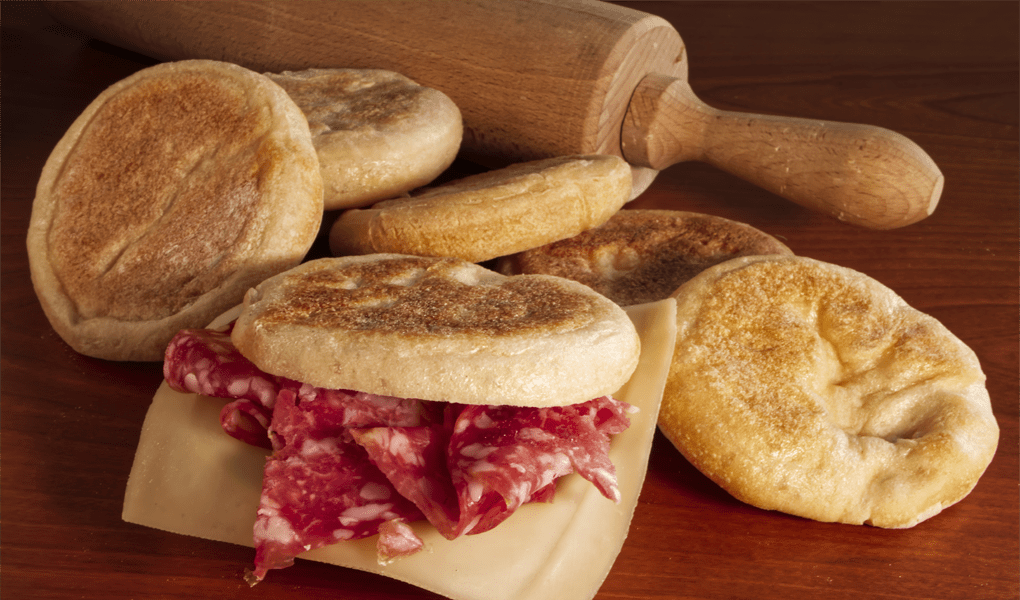 Tigelle
Tigelle or Crescentine are small focaccias from Modena, made with a dough made with flour, lard, yeast and water and are stuffed with salami, vegetables or with the classic Modena pesto, made with lard, garlic and rosemary.
Ingredients
500 g flour 0
150 ml water
150 ml. milk
12 g fresh brewer's yeast
7 g salt
1 pinch of sugar
20 g fat lard (optional)
Instructions
Pour the flour on a dry and clean work surface onto a volcano shape.
Mix water and the milk (both tepid), add sugar, and dissolve in it the fresh yeast until it is completely dissolved.
Pour the liquid with the dissolved yeast into the hole.
Add a teaspoon of salt and, if you want, 20 g of lard.
Work with your fingertips for a couple of minutes, until you get a stick of soft, smooth and elastic dough, but not sticky (so if necessary, you can add a little milk or flour according to your needs).
Place it in a container, covered with plastic wrap, and let it rest for at least 2 hours at room temperature (or into the oven with the light on).
After this time, take the dough and roll it out with "mattarello" to a thickness of 3 or 4 mm, then make many 10 cm diameter discs (use a glass or a cup for this).
In the meantime, heat the Tigelliera (or the non-stick pan or a smooth plate) on a high flame, greasing it with very little olive oil.
Cook the dough discs for 2 minutes on each side.
Nutrition Information:
Yield:

6
Serving Size:

1
Amount Per Serving:
Calories:

353
Total Fat:

5g
Saturated Fat:

2g
Trans Fat:

0g
Unsaturated Fat:

3g
Cholesterol:

5mg
Sodium:

469mg
Carbohydrates:

66g
Fiber:

3g
Sugar:

0g
Protein:

10g
---
"CUNZA"

Ingredients and Directions
90 g fat lard
1 sprig of rosemary
1 clove of garlic
To make the Cunza finely chop into a bowl the rosemary and the garlic, add the lard, and mix them until it becomes creamy e soft.
---
When Tigelle are cooked, cut them in half and fill with the season you prefer.