This delicious vegetable couscous salad with roasted chickpeas and a middle-eastern spice flavor is an amazing and perfect dish to serve warm or even cold.
This post may contain affiliate links, which means that as an Amazon Associate I receive a profit from eligible purchases. There is no additional cost to you. Please read my disclosure for more info.
Couscous is a typical food of North Africa and in Italy of Sicily and Sardinia, essentially made up of grains and small clusters of steamed wheat semolina. It is an excellent alternative to pasta, but less caloric and suitable for diets. Today Couscous Salad is universally considered a dish that combines the colors and scents of the Mediterranean.
This dish can be prepared in many different ways, from light dishes to the tastiest and most elaborate ones. The good news is that there are not mandatory directions, you can serve enriched with vegetables, fish or meat or legumes … or whatever you want, just indulge your imagination!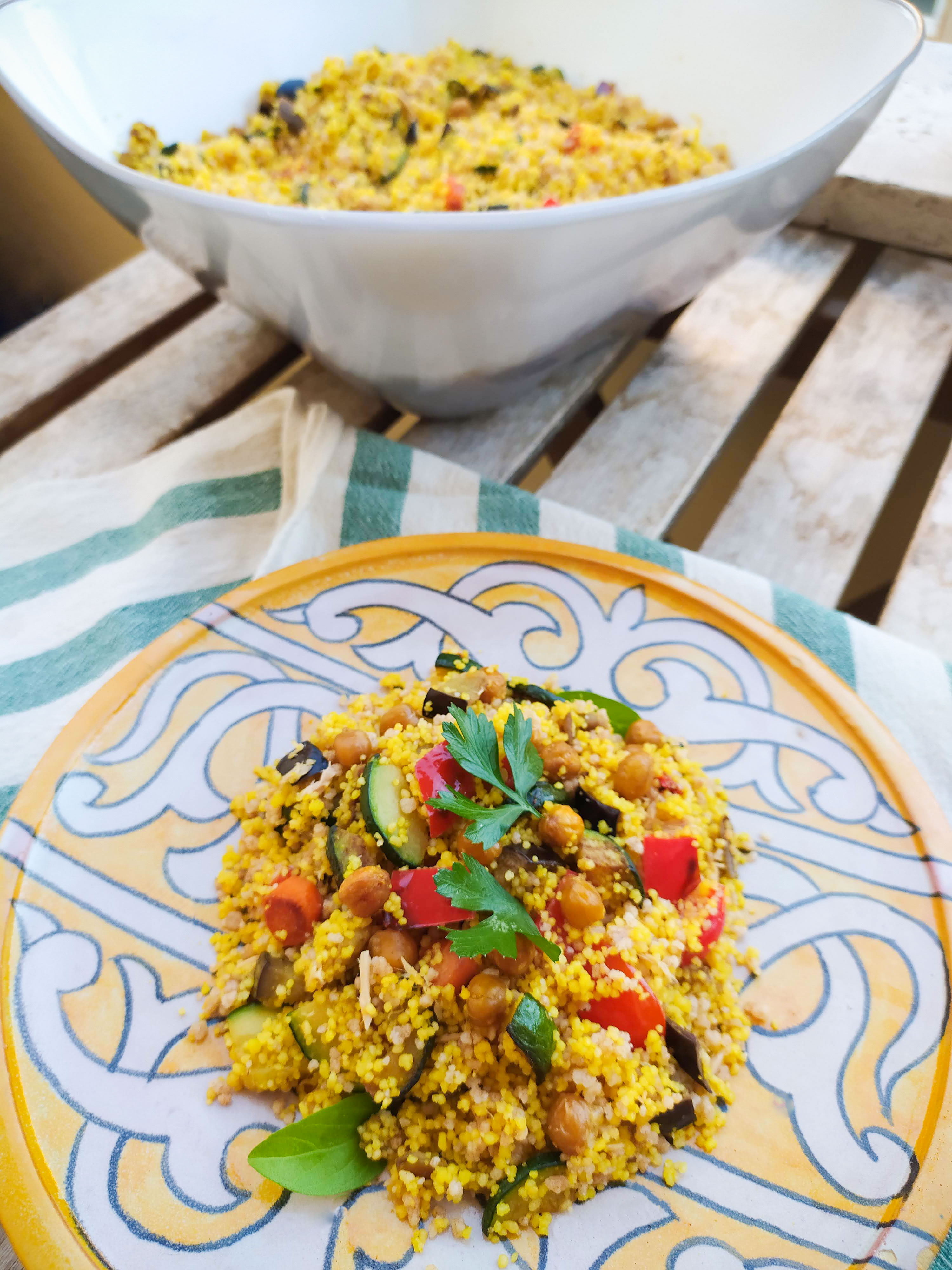 The recipe that I propose today is my reinterpretation, in a totally vegan key, of the Trapanese Couscous that is prepared in Sicily and that was born as a dish based on fish and aubergines.
I love this vegetable couscous salad version to which I add roasted chickpeas and some middle-eastern spices because I can prepare it in advance for my weekly meal plans and I can keep it in the fridge for a few days, especially when I don't have time to cook every day.
To make this recipe smartly and in a short time, I use the Precooked Couscous that you can easily find in all supermarkets. To have an even dietary and healthier meal, I used to mix a part of the wheat couscous with a part of Whole Spelt Couscous. Its texture is harder and the color darker, almost burnished. Spelled adds a flavor of an ancient and traditional dish that I love very much!
In this version, I use chickpeas, which for simplicity I bought already boiled. To make them more interesting, I toasted them in the oven with my favorite spices. However, you can use the spices you like best.
How to cook Couscous
Preparing the couscous is very simple, you just need a little attention and a few tricks to avoid mistakes, here are my tips:
Do not boil the couscous in water as you do for pasta: just boiling salted water and then turn off the stove and pour over the dry pre-cooked couscous.
The

right proportion

, to avoid that it is too dry or there is too much water is 1 part of the couscous / 1 part of water. I help myself with a glass so that I can have the same amount without problems.
After pouring the couscous over the boiling water,

cover with a lid

and wait at least 5 minutes for the water to absorb before mixing.
Before seasoning the couscous with the ingredients you have chosen,

crumble it using a fork

, carefully moving the semolina to prevent lumps from forming. Only in this way will the final result be soft and fluffy.

Do not season the couscous too much

, the grains absorb liquids and flavors, so be careful not to overdo the oil.

If you want to taste the real and most famous Sicilian Couscous, one of the most important festivals is organized every summer in San Vito Lo Capo is the COUSCOUSFEST. When you are in Sicily, you cannot miss it!
Vegetable Couscous Salad with Chickpeas
Additional Time:
5 minutes
This delicious couscous salad with sauteed vegetables and roasted chickpeas with a middle-eastern spice flavor is an amazing and perfect dish to serve warm or even cold.
Ingredients
100 g wheat couscous
100 g whole spelled couscous
1 eggplant
1 bell pepper
2 cherry tomatoes
2 zucchini
1/2 onion
1 clove of garlic
1 sachet of saffron
1 carrot
200 g boiled chickpeas
4 mint leaves
5 basil leaves
fresh cilantro
4 sp extra virgin olive oil
salt & pepper
Instructions
First of all, let's toast the chickpeas already boiled in the oven. Turn on the oven and bring it to a temperature of 150 ° C (300 F°).
Rinse the chickpeas and pour them into a bowl adding 1 tablespoon of oil, 1 pinch of salt and pepper, ½ teaspoon of paprika, and a few leaves of broken rosemary.
Mix everything well and spread out on a baking sheet.
Toast in the oven for 20 minutes, then turn off the oven and let it cool while you prepare the other vegetables.
Meanwhile, wash and dry all the vegetables and cut them separately into very small cubes (about 1 cm). In this way, the vegetables will be crunchy and cooking times will be shorter.
Heat 3 tablespoons of oil with the clove of garlic in a non-stick pan.
Pour in the eggplant and sauté them for 10 minutes.
Remove the eggplants and set them aside on some paper towels.
In the same pan pour 1 tablespoon of oil and fry the onion and the chopped carrot.
When the onion and carrot begin to brown, add the zucchini and peppers.
Put ½ teaspoon of salt, a pinch of pepper, and cook, stirring frequently for about 10 minutes.
In the meantime, respecting the couscous cooking instructions, bring the amount of water needed for cooking to a boil, add 1 pinch of salt and the saffron sachet.
Then turn off the heat and pour the couscous.
Cover everything and let the water soak in for at least 5 minutes. After 5 minutes, crumble the couscous grains well with a fork.
In a large salad bowl, pour all the cooked vegetables, chickpeas, and then the couscous.
Add oil to your liking (I usually don't pour anything else because I've already used enough oil on the vegetables).
Chop the mint, basil, and coriander and sprinkle it on your couscous salad.
Et voilà, your Vegetable Couscous Salad with toasted chickpeas is ready. You can serve it still warm or even cold.
Nutrition Information:
Yield:

4
Serving Size:

1
Amount Per Serving:
Calories:

350
Total Fat:

16g
Saturated Fat:

2g
Trans Fat:

0g
Unsaturated Fat:

13g
Cholesterol:

0mg
Sodium:

99mg
Carbohydrates:

47g
Fiber:

11g
Sugar:

11g
Protein:

10g
Nutrition Data is automatically calculated and may be not accurate.
If you're curious to try other healthy and dietary pasta or cereal salads recipes, suitable as a one-meal dish, maybe to prepare in advance as I do, take a look also at Pearled Spelled Salad alla Norma.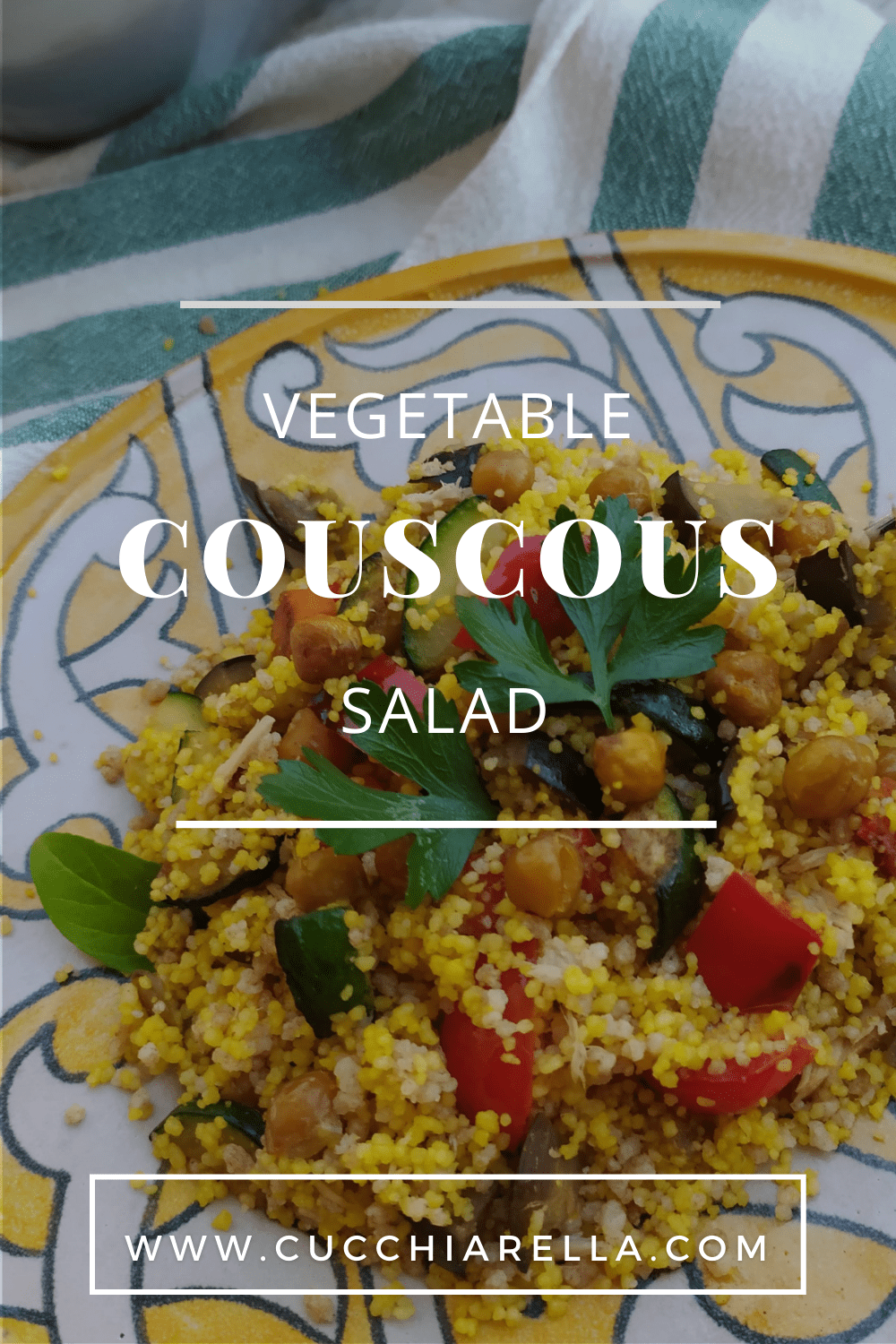 I hope you've loved this recipe as much as I do!
If you liked it, leave a comment or share it by pinning it. To get more recipes like this, follow us on Pinterest or on our Facebook Page.